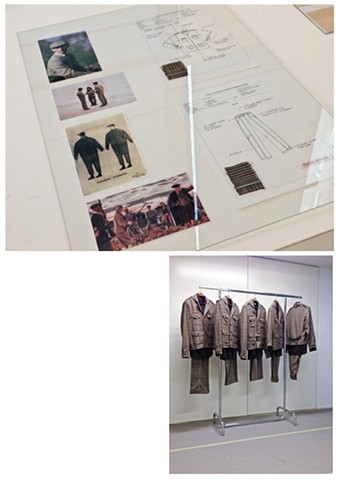 Security Measures
( Garry, Kumiko, Brian, Gabriela, Ian).
Tailored Harrys tweed uniforms for the invigilators of the Barbican Centre
2004
Soleil Politique
Museion Bolzano
Curated by Pierre Bal Blanc
(In collaboration with Fake London)
www.museion.it/2014/09/soleil-politique…
Originally conceived for the Barbican Art Gallery in London. and shortly after the opening of the exhibition remouved by the administration of the museum, Security Measures comprises a series of tweed uniforms tailor-made for the art centre´s security guards. The work aims to expose the underlying power relations in contemporary society and its institutions. On a political level, the work draws attention to what is normally minimized and concealed in a cultural context: Instances of control. From a sociological stand point, Security Measures restores individuality to those institutional agents whose presence is depersonalized and ignored. Rather than privilege an analytical and discursive mode, Guillén has chosen an approach that literally incorporates sociological, economical and political questions, redefining the relationship between artists and art institutions.
Pierre Bal Blanc